Coronavirus Updates
**All physical gatherings are cancelled until we are able to meet again when the virus subsides.
Please tune into our LIVE stream on Sunday Mornings at 10am and on Sunday Evenings at 5pm!
COVID-19 Task Force
Freedom Church has assembled a team of people who are going to be activated to help those in need during this crisis. If you would like to be a part of this team, please contact the church.
Food Drop Off this Week
Please drop off the following items at Freedom Church, 5676 Beattie Ave this Wednesday between 11am and 1pm, and 7pm and 8pm.
Spaghetti / Pasta
Pasta Sauce
Canned Vegetables
Canned Fruit
Canned Tuna
Oatmeal Packets
Rice Mixes
Canned Soup
Ramen Noodles
Face Masks
If you are able to sew and make face masks, please contact the church. We will be accepting masks to donate to local health care and nursing facilities in need. There is a certain design, as required by the CDC to be compliant and safe, so please contact us before making the masks so we can provide you with these guidelines. Thank you!
Unite714
Pastors, leaders, churches, and individuals from around the globe are joining together — with one heart, one voice, and one prayer — to see the COVID-19 halted, lives healed, hardships mitigated, people come to Christ, and an outpouring of God's Spirit.
Let's unite together across denominational, network, national, and ethnic lines.
Let's gather with one heartbeat — to unite and focus our eyes on God, seek His help and healing, and believe for an awakening in every nation.
God promises in 2 Chronicles 7:14, that when we humble ourselves, unite in prayer and seek His face, He will hear us, He will speak, He will forgive, and He will heal our lands.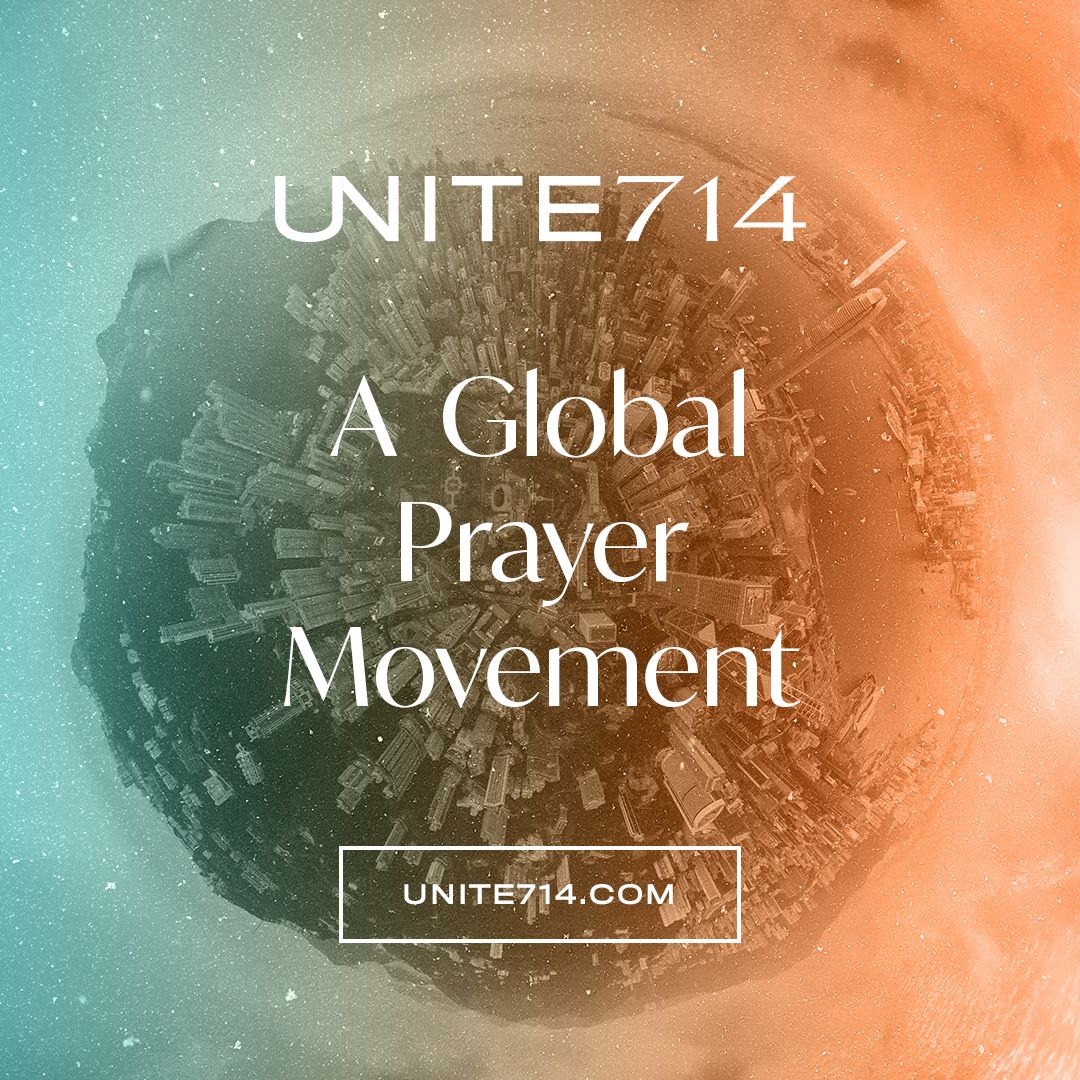 Unite714 Weekly Prayer
To participate in this global movement of prayer, commit to praying at 7:14am and 7:14pm everyday the weekly prayer focus.
March 19th Encouragement
Good Morning Freedom Fam and friends!
Have a great Thursday!
Share this video and invite your friends and family to tune in LIVE this Sunday at 10am!
March 17th Encouragement
Hey Freedom Fam!
Here's some encouragement for your day today!
"𝔸𝕟𝕕 𝕨𝕙𝕒𝕥𝕖𝕧𝕖𝕣 𝕪𝕠𝕦 𝕕𝕠, 𝕚𝕟 𝕨𝕠𝕣𝕕 𝕠𝕣 𝕚𝕟 𝕕𝕖𝕖𝕕, 𝕕𝕠 𝕖𝕧𝕖𝕣𝕪𝕥𝕙𝕚𝕟𝕘 𝕚𝕟 𝕥𝕙𝕖 𝕟𝕒𝕞𝕖 𝕠𝕗 𝕥𝕙𝕖 𝕃𝕠𝕣𝕕 𝕁𝕖𝕤𝕦𝕤, 𝕘𝕚𝕧𝕚𝕟𝕘 𝕥𝕙𝕒𝕟𝕜𝕤 𝕥𝕠 𝔾𝕠𝕕 𝕥𝕙𝕖 𝔽𝕒𝕥𝕙𝕖𝕣 𝕥𝕙𝕣𝕠𝕦𝕘𝕙 𝕙𝕚𝕞."
‭‭ℂ𝕠𝕝𝕠𝕤𝕤𝕚𝕒𝕟𝕤‬ ‭𝟛:𝟙𝟟‬
Also, we wanted to keep you updated with a couple of things:
First, due to increased Density Reduction requirements, we will be moving our worship services exclusively online. So if you haven't already please check out www.freedomny.church today to get acquainted with our website and also bookmark www.freedomny.online.church for our live streaming service. On Sunday, consider inviting someone to your house to watch service with you, or going to a friends house to watch with them! (Maybe even stop and get donuts on the way 😆)
Also, as a result of the above requirement, Adventure Kids and Nexus Student Ministry will be moving their meetings online as well. Look for a Facebook LIVE tomorrow for Nexus Student Ministrydents, tune into the ZOOM group that will be meeting tomorrow.
We are taking the situation day by day, and evaluating our options each step of the way. We will continue to update you here, but we also want to use this space for good news and encouragement so share these posts on your own page to help us spread hope and gratitude during this time!
Blessings!
March 16th Update
We are working hard to comply with the governor's density reduction requirements while still being able to offer a great service to you from home!
We will be updating regularly with plans, services, and announcements here!
Good Morning Church Family!
We have taken steps to ensure that our facility is sanitized and ready to accommodate everyone this weekend!
•We have also made special arrangements to ensure that we are within the regulations set forth by our governing officials.
•Sunday Morning Service will be at 10am, and we will have seating in the Main Sanctuary and the Youth Sanctuary. The Governor's density reduction requirement is to allow space between people, so we are asking that there is at least one seat in between people (families may still sit together).
•Children's Ministry will be taking place in the original kids space, in the basement, for the time being, so please check in your children at the basement.
•Also, Membership Classes will be taking place as scheduled, in the Lounge at 9am.
•Again, if you or your children are feeling sick, please stay home and join us online!
Let's continue to pray in faith for our nation and for those affected around the world by this virus. Let us also lift up our missionaries around the world during this time.
If you have any questions, feel free to send us a message.
Dear Freedom Family,
We've been closely and prayerfully tracking the news of the coronavirus (COVID-19) both locally and globally.
At this time, there have been no confirmed cases reported in Western New York, and we are praying this remains a reality.
𝐂𝐮𝐫𝐫𝐞𝐧𝐭𝐥𝐲, 𝐰𝐞 𝐚𝐫𝐞 𝐬𝐭𝐢𝐥𝐥 𝐩𝐥𝐚𝐧𝐧𝐢𝐧𝐠 𝐭𝐨 𝐡𝐚𝐯𝐞 𝐨𝐮𝐫 𝐫𝐞𝐠𝐮𝐥𝐚𝐫𝐥𝐲 𝐬𝐜𝐡𝐞𝐝𝐮𝐥𝐞𝐝 𝐒𝐮𝐧𝐝𝐚𝐲 𝐬𝐞𝐫𝐯𝐢𝐜𝐞𝐬, 𝐚𝐥𝐨𝐧𝐠 𝐰𝐢𝐭𝐡 𝐨𝐮𝐫 𝐒𝐮𝐧𝐝𝐚𝐲 𝐞𝐯𝐞𝐧𝐢𝐧𝐠 𝐩𝐞𝐫𝐟𝐨𝐫𝐦𝐚𝐧𝐜𝐞 𝐟𝐫𝐨𝐦 𝐘𝐨𝐮𝐭𝐡 𝐔𝐧𝐥𝐢𝐦𝐢𝐭𝐞𝐝! 𝐖𝐞 𝐡𝐨𝐩𝐞 𝐭𝐡𝐚𝐭 𝐲𝐨𝐮 𝐰𝐢𝐥𝐥 𝐩𝐥𝐚𝐧 𝐭𝐨 𝐣𝐨𝐢𝐧 𝐮𝐬!
In a situation such as this, sensible steps, reasonable preparations and plans need to be made for the potential for something to change. We will continue to monitor the situation and adjust our response as necessary.
In the meantime, we are taking the following precautions and recommend you to consider the same:
CLEANLINESS AND SANITIZING
While we have always aimed to maintain a clean facility, we are taking extra measures to ensure that surfaces and spaces are cleaned and disinfected including door knobs, countertops and tables. Your assistance in keeping these areas neat and tidy will be a great help!
SANITIZING STATIONS
There are several hand sanitizer stations in the foyer, in children's areas and in the youth sanctuary. Please sanitize your hands frequently. Also, anytime your hands are dirty, but especially after using the bathroom, please make sure to wash your hands with warm soap and water for at least 20 seconds.
GREETING
When greeting people, we invite you to do so without physical contact. While you may be comfortable shaking hands or hugging, others may not be – and we want to be considerate of each other.
FREEDOM KIDS & NURSERY
As usual, we will be cleaning and sanitizing nursery toys. We will clean before and after services. We currently use, and will continue to use all-natural disinfectants, as well as a natural mix of vinegar and thieves oil to clean the floors and surfaces in the Nursery and Tots classrooms. For Freedom Kids we will continue wiping down surfaces throughout the service with Lysol wipes and ensuring that children and our leaders are washing their hands with warm water and soap. It is extremely important that only the approved workers are in children's or teens ministry spaces. If you need to stay with your child, please do so in the foyer.
IF YOU ARE FEELING SICK
If you are feeling sick, please stay home and stream our service live at 10am. www.freedomny.church When you go to our website, a popup will indicate that the service is live and you can join in, or scroll to the bottom and click the "Join Live" button. From our website you can also give your tithe online and submit prayer requests. You can also download the Church Center app to make Online Giving even easier.
WHAT PRECAUTIONS SHOULD WE TAKE?
We encourage you to take some time to understand proper prevention measures to avoid spreading the virus by reading through the CDC recommendations at www.cdc.gov. Some of those recommendations include staying home if you are sick, avoiding close contact with people who are sick, washing your hands with soap and water for at least 20 seconds, avoiding touching your face, and covering your cough or sneeze with a tissue, then throwing the tissue in the trash.
HOW SHOULD I RESPOND SPIRITUALLY?
The word pandemic has a scary connotation behind it, and while the global community is panicking about what is taking place, as believers in Jesus Christ we have a Living Hope that we not only place our trust in, but submit our requests to… Paul says it this way:
𝘗𝘩𝘪𝘭𝘪𝘱𝘱𝘪𝘢𝘯𝘴 4:6-7 | …𝘥𝘰 𝘯𝘰𝘵 𝘣𝘦 𝘢𝘯𝘹𝘪𝘰𝘶𝘴 𝘢𝘣𝘰𝘶𝘵 𝘢𝘯𝘺𝘵𝘩𝘪𝘯𝘨, 𝘣𝘶𝘵 𝘪𝘯 𝘦𝘷𝘦𝘳𝘺𝘵𝘩𝘪𝘯𝘨 𝘣𝘺 𝘱𝘳𝘢𝘺𝘦𝘳 𝘢𝘯𝘥 𝘴𝘶𝘱𝘱𝘭𝘪𝘤𝘢𝘵𝘪𝘰𝘯 𝘸𝘪𝘵𝘩 𝘵𝘩𝘢𝘯𝘬𝘴𝘨𝘪𝘷𝘪𝘯𝘨 𝘭𝘦𝘵 𝘺𝘰𝘶𝘳 𝘳𝘦𝘲𝘶𝘦𝘴𝘵𝘴 𝘣𝘦 𝘮𝘢𝘥𝘦 𝘬𝘯𝘰𝘸𝘯 𝘵𝘰 𝘎𝘰𝘥. 𝘈𝘯𝘥 𝘵𝘩𝘦 𝘱𝘦𝘢𝘤𝘦 𝘰𝘧 𝘎𝘰𝘥, 𝘸𝘩𝘪𝘤𝘩 𝘴𝘶𝘳𝘱𝘢𝘴𝘴𝘦𝘴 𝘢𝘭𝘭 𝘶𝘯𝘥𝘦𝘳𝘴𝘵𝘢𝘯𝘥𝘪𝘯𝘨, 𝘸𝘪𝘭𝘭 𝘨𝘶𝘢𝘳𝘥 𝘺𝘰𝘶𝘳 𝘩𝘦𝘢𝘳𝘵𝘴 𝘢𝘯𝘥 𝘺𝘰𝘶𝘳 𝘮𝘪𝘯𝘥𝘴 𝘪𝘯 𝘊𝘩𝘳𝘪𝘴𝘵 𝘑𝘦𝘴𝘶𝘴.
And so we aren't going to be anxious, but we are going to pray. We are going to believe for God to move and to heal our land. Not only that but we are also going to continue to worship God for His goodness, we are going to continue to meet together and exercise wisdom in our interactions and preparations of services and other events. In a world that is shaken up, we need to shine the hope of Christ. A.W. Tozer said: "A scared world needs a fearless church". When asked why we aren't afraid, we will have the opportunity to share the hope that we have in Jesus (1 Peter 3:15)!
So let's place our trust in God, continue to pray for those who are affected by this virus, and look to Him for peace.
𝘗𝘴𝘢𝘭𝘮 91:1-2 | 𝘏𝘦 𝘸𝘩𝘰 𝘥𝘸𝘦𝘭𝘭𝘴 𝘪𝘯 𝘵𝘩𝘦 𝘴𝘩𝘦𝘭𝘵𝘦𝘳 𝘰𝘧 𝘵𝘩𝘦 𝘔𝘰𝘴𝘵 𝘏𝘪𝘨𝘩 𝘸𝘪𝘭𝘭 𝘢𝘣𝘪𝘥𝘦 𝘪𝘯 𝘵𝘩𝘦 𝘴𝘩𝘢𝘥𝘰𝘸 𝘰𝘧 𝘵𝘩𝘦 𝘈𝘭𝘮𝘪𝘨𝘩𝘵𝘺. 𝘐 𝘸𝘪𝘭𝘭 𝘴𝘢𝘺 𝘵𝘰 𝘵𝘩𝘦 𝘓𝘰𝘳𝘥, "𝘔𝘺 𝘳𝘦𝘧𝘶𝘨𝘦 𝘢𝘯𝘥 𝘮𝘺 𝘧𝘰𝘳𝘵𝘳𝘦𝘴𝘴, 𝘮𝘺 𝘎𝘰𝘥, 𝘪𝘯 𝘸𝘩𝘰𝘮 𝘐 𝘵𝘳𝘶𝘴𝘵."
Grace and peace,
Freedom Church