Child Dedication Service
Sunday, March 05, 2023, 10:30 AM - 12:00 PM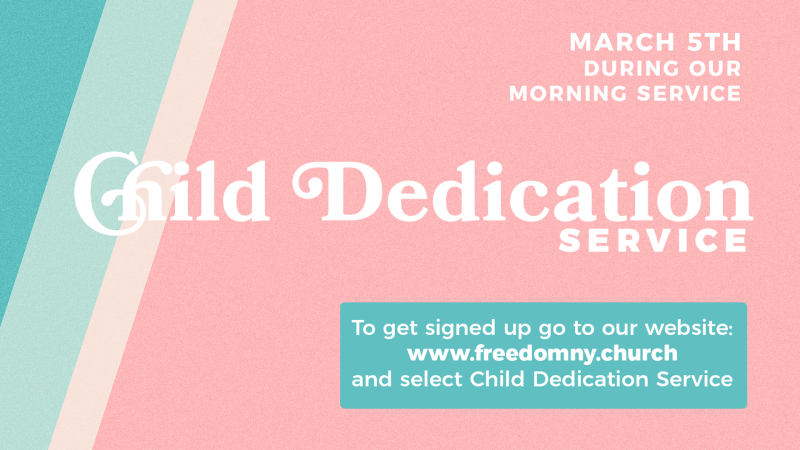 Congratulations on taking the step to dedicate your child(ren) to the Lord and allowing us the tremendous honor and privilege of partnering with you in the spiritual development of your child. You have made an important commitment as parents to lead your child into a growing relationship with Jesus Christ. And as they grow older, you will be able to guide and help them understand what thatinvolves.
1 Samuel 1:26-28 is a key example of Baby Dedication. God answered Hannah's prayer by giving her a son and she remembered her vow: "As surely as you live, my Lord, I am the woman who stood here beside you praying to the Lord. I prayed for this child, and the Lord has granted me what I asked of him. So now I give him to the Lord. For his whole life, he will be given over to the Lord. And he worshipped the Lord there".
At Freedom Church, we believe that life with God is includes a focus on a strong, Godly family. No one has greater potential to impact a child's spiritual development than their parents. Our aim is to join with and equip you to build a spiritually healthy home. We want to be your biggest fans, your strongest supporters, and your trusted guides as you raise your child to know what it means to have a personal relationship with Jesus Christ.
With the blessing of a child comes a great responsibility to raise them in accordance to Biblical truth. We encourage this by not only being able to provide resources to new parents, but also by having robust programming for children at Freedom Church. As parents, you set the example for your children by attending services, praying at home, setting an atmosphere of worship and communicating the importance of community.
"Train up a child in the way he should go; and when he is old, he will not depart from it." Proverbs 22:6
We will be holding a Dedication Sunday in which we will dedicate several children to the Lord. If you would like to have your child(red) dedicated, please fill out the form below and we will be in contactwith you regarding next steps!